Testiamo le nostre schede Audio con AudioMark Analyzer e ne creiamo un database,come già detto in un altro thread.
Il link è:
QUESTO!
dove poter scaricare il software per il testing,che pensiamo sia il migliore per ora(RMAA 3.65).
Le nostre considerazioni,come staff,riguardano sopratutto:
1)dati nominali contro dati reali,sulle caratteristiche misurabili con questo software
2)database di schede,non per decretare la migliore o la peggiore,ma per aiutare gli utenti con un arma in più sulla reale qualità di una scheda,che si evince da tutti i dati possibili in mano all'acquirente, per aiutare l'acquirente a farsi un'idea più completa possibile.
Ovviamente ognuno di voi mette un post in cui ci siano su server esterno o nel limite imposto dal nostro forum le foto con i test e la catena audio utilizzata nella sua globalità.
Qui andranno messi solo i post di test o di considerazione del software di test
,per considerazioni sulle singole schede Audio, quelle andranno fatte nei rispettivi thread di appartenenza di ogni scheda audio nella sezione "schede audio"! OK?
Metto qui un paio di foto tratte dal sito: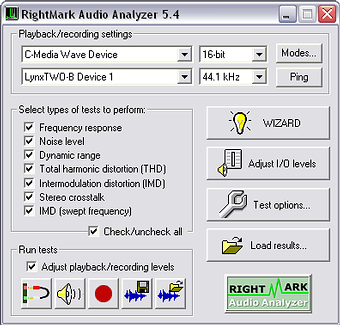 "RMAA suite is designed for testing quality of analog and digital paths of any audio devices, be it a sound card, an MP3 player, a consumer CD/DVD player or an acoustic set. The results are obtained by playing and recording test signals passed through the tested audio path by means of frequency analysis algorithms. A more common mark is also provided for those unfamiliar with measured technical parameters."
Test di Digidesign MBOX RightMark Audio Analyzer test
RMS power, dB: -93.4 -92.9
RMS power (A-weighted), dB: -97.4 -96.9
Peak level, dB FS: -79.0 -79.0
DC offset, %: -0.00 -0.00
Ok sotto con delle considerazioni, e con i test se ce li avete,ma ricordate i post di risposta ai test, vanno nelle sezioni apposite.
Eventualmente procederemo alla modifica del thread start,come post successivi da mettere...
Main System:
in progress
School System
:HP Compaq615 QL64fuso. Ora: HP 255 8gb Vengeance DDR3+SSD 128gb Callisto+SDXC Patriot 128gb+Win7HP